Schools that teach students fundamental nursing assistant skills and certification preparedness in Arlington Heights, Illinois and are open for enrollment are shown on the list below. Contact the training facility through their phone number to get details about how to sign-up, class curriculum, program schedules, and tuition fees.
Presbyterian Homes The Moorings
811 East Central Rd.,
Arlington Heights, IL 60005
(847) 956-4304
There are plenty of ways for you to become a nursing assistant. One way for you to become one is to enroll in a state-approved training program. The CNA programs in the state are offered by different institutions. According to the state rules, for you to be accepted in a program, you must be at least 16 years old and be physically capable of handling different patients.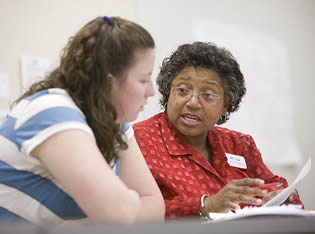 If you enroll in a program, you will be spending your hours in both lectures and skills training. You will get the chance to experience what an actual clinical setting is like. When you are in the clinical area during the clinical rotations, you will be placed under the supervision of a registered nurse. The state requires that all graduate nursing assistants must have at least 40 hours of training, which will already include the necessary course work.
After you complete your training, you can then take on the license exams. Taking these exams are an important step since the state does not allow any nursing assistant whose name is not on the registry to work in any healthcare facility. Those who enrolled in nursing courses but had at least 40 hours of experience in the clinical area and had covered the fundamentals may also apply for the exams. For any questions regarding the current certification requirements, please call the number provided by the state registry at 217-785-5133.
This is a village that is a part of both Cook and Lake Counties. It is considered as a suburb of Chicago and is located a few miles from its downtown. This village is also known as City of Good Neighbors. You can find this village adjacent to Elk Grove and Palatine. According to the census of 2010, their total population was around 82,405 people. It has a population density of 5,000/sq mile. The total area of Arlington Heights is approximately 16.4 sq miles, where all of it is land.
Examples of health care providers that you can find in the area include American Health Center Ltd, Northwest Suburban Physicians LLC, Hand Surgery Associates, Woman Care, American Health Centers Ltd, AthletiCo Arlington Heights, Northwest Community Hospital, Revita Health Center, Anik Life Sciences Medical Corp, Refuge Community Counseling LTD, Able Health Center LTD, Noble Health Corp, and many more. photo attribution: murraystateuniversity