Listed below are the (STNA) state tested nursing assistant classes found in Akron, Ohio. The list contains all the available programs that are recommended by the OH Department of Health. Potential students can learn more about the instruction length and curriculum by calling one of the schools below.
Akron School of Nursing
1532 Peckham St,
Akron, OH 44320
(330) 873-3355
Med-Cert Training Center
771 North Main street,
Akron, OH 44310
(330) 434-2378
http://mymedcert.com/
Akron Public Schools
70, North Broadway,
Akron, OH 44308
(330) 761-1661
Fax: (330) 761-3224
Although the requirements for becoming a nursing aide differ from one state to another, there will always be the required competency examinations that you must take in order to work as a nursing aide long-term. By passing the state exams, you will gain entry into the state's Nurse Aide Registry and will then be given your STNA license.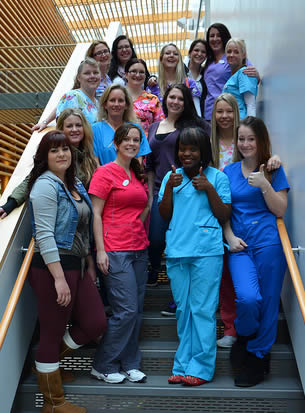 Another way of getting into the state's NAR is to apply for reciprocity. Reciprocity is given to nursing aides who are currently registered in a different state-registry and wishes to transfer and work in Ohio. STNAs or CNAs from Ohio may also transfer to a different state if the state offers reciprocity. When applying for this state, the applicant must provide a government-issued ID, his complete name, address, contact number, SS card, and the states that he is registered as a nursing aide.
It is not enough to get your name on the Registry to work as a nursing aide. Your status must also say that you are active. Your status as a state-tested nursing aide will remain active for 2 years from your initial certification. To maintain your eligibility to work as a nursing aide, you must renew your license before it expires. One of the requirements is that you must be able to provide proof that you were able to work for 7 ½ consecutive hours or 8 cumulative hours as a paid nursing aide. Even if your license has lapsed, you may still renew it if you provide the Registry proof of your employment.
To avoid any problems with your recertification, you must also keep your record on the Registry updated. If you changed your name, address, or employer, you must also inform the Registry. If you wish to have a copy of your license with your new name, you will have to request for one by contacting D&S Diversified Technologies at (877) 851-2355.
The City of Akron is considered to be the 5th biggest city in the state of Ohio. Founded by Simon Perkins and Paul Williams in 1825, this city now serves as the county seat of Summit County. Akron is also known by different names like Rubber City, City of Invention, and its former name – the Rubber Capital of the World. As of the 2010 census, the total population of the city was estimated to be at 119,110 people, making it the 113th most populous city in the U.S. You can find Akron in the Great Lakes region approximately just 30 miles south of Lake Erie. It has a total area of 62.37 square miles, which only 0.34 square miles of it is water.
With its high number of people living in the area, you can also expect to find a large number of healthcare facilities ready to take care of the people's health needs. Examples of healthcare facilities in the area include Medworks Urgent Care, Akron General Partial Hospitalization, ACCUMED Akron Inc., VA Akron Clinic, Akron General Wellness Center, Primary Care Association, Summa Health Center, and many more. photo attribution: ufv