Potential students who are interested in enrolling in nursing assistant training can find courses that are available in Ada, Oklahoma on this page. These facilities have met the standards set by the state for curriculum and hourly instruction and ill enable one who completes the classes to take the license tests.
Pontotoc Technology
601 West 33rd Street,
Ada, OK 74820
(580) 310-2200
McCall's Communities for Life Enrichment
13546 CR 3600,
Ada, OK 74820
(580) 272-6600
The great thing about becoming a nursing assistant this that there six classifications which you can choose to become. Each of these classifications has its own specialties. These classifications can be divided into advance and basic. The basic certifications include Long Term Care Aide certification or a Home Health Aide. The advance certifications include Disabled Direct Care Aides, Certified Medication Aides, Adult Day Care Aides, and the Residential Care Aides.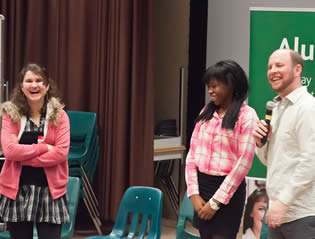 To acquire a CNA basic certification in Oklahoma, you will have to enroll in a training program that is approved by the state's Department of Health. These training programs are required to provide at least 75 hours of training. Their students must not handle any patients before they have covered the first 16 hours covering topics such as infection control, safety and emergency, communication skills, promoting the resident's rights, and respecting their independence. The clinical exposure of the students must also not go below 16 hours.
As soon as you complete your training, you can then apply for the competency exam. This exam will consist of a multiple-choice knowledge test and a random skills evaluation. To become certificated, you must pass all the tests within 3 attempts. If you do pass, your name will be listed on the Nurse Aide Registry and you will receive your certification.
If you wish to further your career, you can aim to acquire the advance certifications. If you love to take care of developmentally disabled patients, then you should attempt to become a developmentally disabled direct care aide.
Like the process of acquiring any of the basic certifications, you will have to pass the competency exam. Before you are able to apply, you must first establish eligibility by enrolling in another training program. When you enroll, you will cover another 75 hours of classroom instructions and supervised practical training. This time, you will cover new topics and further expound on old ones which were not discussed in the basic training.
After completing the program, you will then challenge the competency exam. This exam is also composed of a written/oral test and a random skills evaluation. You must also pass all the tests to get certified. Once you acquire your new certification, your record on the Registry will be updated.
The state of Oklahoma allows certified nurse aides that come from a different state to apply for reciprocity. When applying, they should provide documents that shown their training and experience. They should also make sure that they do not have any criminal records that may disqualify them from working.
Contact the OK State Department of Health by calling: (405) 271-6868, via Fax at (405) 271-3442, or through Email at: LTC@health.ok.gov
Ada is the county seat of Pontotoc County. It was named after the daughter of one of the earliest settlers in the area. The town was originally called as Daggs Prairie. As of the 2010 census, their total population was around 16,810 people. They have a population density of 1,077.2/sq mile. The total area fo the city is estimated to be about 15.8 sq miles, where only 1 square mile of it is water.
Examples of health care centers that are located in the city area include Oklahoma Healthcare Solutions, Ada Dialysis Clinic, Women's Health Center, Ada Residential Care, Country Style Health Care, O'Neill Family Practice, Ada Adult Medicine Clinic, MidWest Health Associates, The Skin Clinic, Reflections Behavioral Health Unit, Chicksaw Nation – Rehabilitation, and many more. photo attribution: ufv