The classes that are open for one to become a certified nurse aide in Abingdon, Virginia are listed on this page. These are all the DOH recognized courses open for enrollment right now. Call the school directly using the phone number listed below for details about enrolling in medical training, cost of tuition and certification requirements in the state of Virginia.
Virginia Highlands Community College
P.O. Box 828,
Abingdon, VA 24212
(276) 739-2400
William N. Neff Vocational Center I and II
255 Stanley Street,
Abingdon, Virginia 24210
(276) 739-3100
One of the most popular courses that are being offered in different health care institutions and schools are CNA courses.  Enrolling in a course that is approved by the VBON is the first step in becoming a nursing aide since it is important that nursing aide candidates learn how to properly meet the different needs of the patients.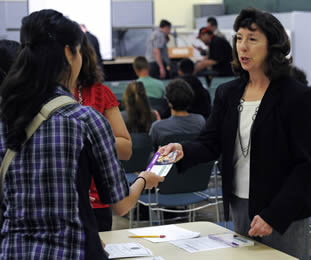 A nursing aide is a trained individual who works under the supervision of a registered nurse. They help provide nursing and nursing-related care to their patients who are living in different health care institutions. The scope of work of a nursing aide is wide and often involves assisting patients with their daily activities such as bathing, toileting, dressing, eating, exercising, cleaning their immediate surroundings, ambulating, and many more.
A CNA course will help nursing aide students prepare for the different challenges that they might encounter once they take care of the patients. Aside from the basic nursing procedures, the students are also taught important concepts such as communication techniques, how to respect the patients' rights, how to promote their independence; safety precautions, proper documentation, nutrition, vital signs, and other related topics.
After you complete your training the next step is to apply for the certification exam. The certification exam is properly known as the NNAAP exam or the National Nurse Aide Assessment Program Examination. It is a two part exam which consists of a written/oral test and a skills evaluation exam. Candidates must pass both tests to get into the Nurse Aide Registry.
The Nurse Aide Registry is a master list of all individuals who have successfully met federal and state training and testing requirements. Employers will always check each applicant's certification before hiring them. You can also check your status as a nursing aide by going to: www.license.dhp.virginia.gov. Interested people can also call the Board at (804) 367-4569.
Application packets can be downloaded from www.dhp.virginia.gov. Please fill out the forms completely and accurately before sending them along with the payment of $94 for the testing fee. Incomplete or inaccurate applications will not be processed and you will not be scheduled for the NNAAP exam.
All applications must be set to the address below:
NACES Plus Foundation, Inc.
8501 North Mopac Expressway, Suite 400
Austin, Texas 78759
(800) 758-6028
Applications must be submitted at least 12 days before your preferred exam date. If you suddenly become unavailable on your exam date you are given one free rescheduling. Please avoid penalties by notifying NACES at least 5 days before the exam date.
This is the county seat of Washington County. You can find this town southwest of Roanoke. It is a major city of the Kingsport–Bristol (TN)–Bristol (VA) Metropolitan Statistical Area. According to the census of 2010, their total population had reached up to 8,191 people. It has a total area of about 8.3 sq miles, where all of it is land. Its population density is around 932.6/sq mile.
Examples of health care centers that you can find in the area include Wellmont Urgent Care, Personal Health Care, Barnhart Chiro Health Centre, Manthey Brett A Doctor of Osteopathi, Lifeline Services, Maxim Healthcare, Abingdon Family Healthcare, Southwest VA Ems Council, Southwest Virginia Health Network, Wesley Clinic, and many more. photo attribution: codnewsroom