CNA Classes in Georgetown, South Carolina shown on this page offer the most recent and up to date certified nursing assistant classes that are open for enrollment. For more information about enrolling in training, the cost of instruction, or certification requirements, please call the number provided below.
Georgetown High School (H/O)
PO Box 1778 2500 Anthuan Maybank Dr.
Georgetown, SC  29440
843-546-5317
Horny-Georgetown Technical College
4003 South Fraser St.
Georgetown, SC  29440
843-546-8406
The Occupational Outlook Center
PO Box 843
Georgetown, SC  29440
843-240-6715
Those who desire to work as a certified nurse aide in South Carolina must go through proper training and receive a license. Training will provide skills and basic classroom instruction to help prepare you for the job and the certification exams. To be eligible for a program all applicants should have a high school diploma or equivalent, current immunization card, and go through a criminal background check. Classes must be SC state approved and offer 100-hour of instruction.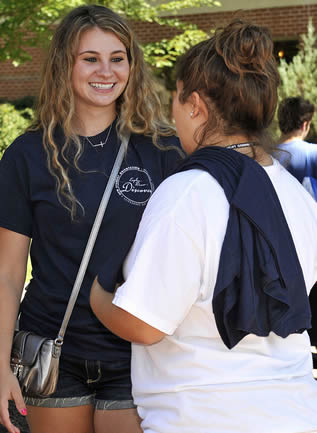 After completing the course one can send in application to take the National Nurse Aide Assessment Program. The NNAAP exam contains two parts which are a written or oral exam and a skills evaluation. All who take the tests are allowed three attempts for each part. Those who are successful at passing have their name entered for a period of two years on the state registry database.
This exam consists of a written (oral) knowledge test and a random skills evaluation. If you pass both of them within 3 attempts, you will gain entry into the state's Nurse Aide Registry and receive your certification. The Pearson VUE company handles the exams and you can reach them with questions by calling (800) 475-8290.
After your name has been entered on the registry it is your duty to maintain your listing and keep it updated. You should inform the Registry if you change your name or address by calling their phone number at  (800) 475-8290. Each entry will need to renew their license every two years by working an eight hour shift as a nursing aide under the supervision of an RN. Call the number shared above to learn more about renewal instructions.
This is the county seat of Georgetown County. It is the 3rd oldest city in the entire state. You can find this city on the Winyah Bay. This city is also the 2nd largest seaport city in South Carolina. It has a total area of approximately 7.2 sq miles. It has a total population of about 8,950 people, according to the last census. Its population density is 1,368.5/sq mile.
Health care centers and providers that you can find in the area include Rite Aid, Walmart Supercenter, Georgetown Memorial Hospital, Apria Healthcare, Low Country Surgical Associates, Georgetown Memorial Hospital – Radiology, White Kate MD, Dr. John A. Miller & Associates, Triana Mark E DO, Francis B Ford Cancer Treatment Center, and many more. photo attribution: westconn