The certified nursing assistant schools that are available for enrollment in Sierra Vista, Arizona are available on this page. If you want to find out more about the cost of the program and the duration of training, you can call the facility or visit their address.
Horizon Health Care Institute
555 East Wilcox Drive
Sierra Vista, AZ 85635
520-439-9551
Website: http://www.horizonhealthcareinstitute.com/
Cochise College – Sierra Vista Campus
901 North Colombo Avenue,
Sierra Vista, AZ
520-515-0500
Website: http://www.cochise.edu/
CNA classes map for Sierra Vista, Arizona:
The completion of a state-approved CNA program will allow you to apply for the license exams. Taking the license exams is the final step in becoming a nursing assistant. The state does not allow nurse aides to work in long-term facilities without a certification or license.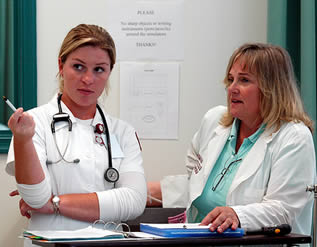 The examination is composed of a written or oral exam and a skills demonstration. Every applicant must pass both parts in order to get a license. Aside from the training program, every applicant is also required to subject themselves to background checks for criminal records by both the federal and the state.
This city is a part of Cochise County. As of 2010 their total population has reached up to 43,888. The city is also a part of the Sierra Vista-Douglas Micropolitan Area. It is a few miles from Tucson. You can get to the city with the use of Interstate 10 and State Highway 90. This city is surrounded by different mountain ranges such as Huachuca Mountains, Dragoon Mountains, Whetstone Mountains, and Mule Mountains. It has a total area of 153.4 sq miles and a population density of 273.2/sq mile.
The Sierra Vista Regional Health Center (SVRHC) and the Raymond W. Bliss Army Health Center are the main health centers that take care of the communities. Other health care centers in the area include Sonoita Family Health, Tombstone Family Health, Carter Imaging Center, Sonoita Family Health, Sierra Vista Regional Health Center, and Arizona Family Care Associates Inc. photo attribution: germannacommunitycollege