The schools offering nursing assistant training in Scottsdale, Arizona are displayed below. These programs meet the requirements of the Arizona State Board of Nursing and have been approved for instruction.
Adult Care Learning Systems, Inc.
6829 East Thomas Road
Scottsdale, AZ 85251-6826
480-634-7712
Website: http://www.adultcarelearning.com/
Scottsdale Community College
9000 East Chaparral Road
Scottsdale, AZ 85256-2625
480-423-6000
Website: http://www.scottsdalecc.edu/
Saguaro High School
6250 North 82nd Street
Scottsdale, AZ 85250
480-484-7100
Map of CNA classes open for enrollment in Scottsdale, Arizona:
Before you can take care of patients as a nursing aide, you must be well equipped with the proper skills and knowledge by enrolling in a CNA training program that is approved by the state. As a nursing aide student, you will be taught in different nursing skills like monitoring vital signs, offering and receiving bedpans, assisting in ROM exercises, dressing, bathing, as well as emergency procedures.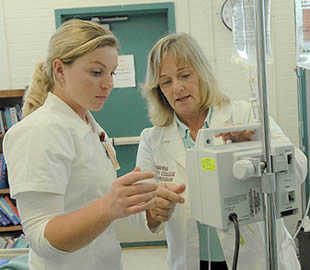 After your training, you will then be eligible to apply for the competency exams to get your license. The different requirements include undergoing background checks at federal and state levels, physical exams, submitting the complete application forms, ID photos, fingerprint cards, transcript of records, as well as paying the fees for the exams. These requirements must either be mailed or sent personally. Those that were sent through email or fax will not be honored. After completing the two part exam you will be added to the Arizona CNA Registry. This grants you eligibility to work long term in facilities throughout the state. If you would like to learn more about requirements or ask specific questions about the exams you can contact the registry by calling 602-771-7800. Currently testing is administered by a company named D&S Diversified Technology Testing Company. You can red more about the test requirements and recommendations at their website found at www.hdmaster.com.
Scottsdale is situated in Maricopa County. It is just adjacent to Phoenix. As of the census of 2010, their population has now reached up to 217,385 people. This city is surrounded by Phoenix, Paradise Valley, Carefree, Tempe, the Fountain Hills, and the Salt River Pima-Maricopa Indian Community. It has a total area of 184.2 sq miles and a population density of 1,305.2/sq mile.
Scottsdale Healthcare and Scottsdale Insurance Company are two of the largest employers in the city. Each company has more than 1,000 employees. Other health care centers that you can find in the area include AllCare Internal Medicine, Allergy Asthma & Immunology Associates, Ltd., Arizona Asthma & Allergy Institute, AllCare Internal Medicine, and Digestive Health Specialists. photo attribution: germannacommunitycollege