The nursing assistant training programs in Holbrook, Arizona that are licensed and approved by the Arizona State Board of Nursing are listed here. Contact the school using the phone number shared on this page to learn more about their certification instruction classes.
Northland Pioneer College
103 North 1st Avenue
Holbrook, AZ 86025
(928) 532-6133
Website: http://www.npc.edu/
Map of CNA classes with open enrollment in Holbrook, Arizona:
Before you will be allowed to handle nursing home residents, you must first enroll in a CNA course and receive proper training. The program should be approved by the state to ensure that you will become eligible to take the license exams afterwards.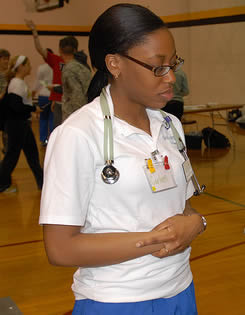 As required by the state, the program must offer at least 120 hours in both theoretical lessons and skills training. They must teach the student in the different aspects of the fundamentals of nursing like emergency care, mental health, resident's rights, medical ethics, and other important nursing skills and knowledge. You can find that these programs are being offered by different educational institutions and nursing homes. Once you complete your training, you can then proceed to take on the license exams. If you wish to learn more about certification eligibility you can contact the state registry by calling (302) 577-6666.
This city is a part of Navajo County. As of the latest census, their total population has reached over 5,126. Holbrook is also the county seat for Navajo County. It was founded back in either 1881 or 1882 and was name after the chief engineer of the Atlantic and Pacific Railroad. It has a total of 15.4 sq miles and a population density of 318.4/sq mile.
Examples of the many health care centers and providers that you can find in the area include Take Care Clinic at select Walgreens (866) 825-3227, North Country Community Health (928) 524-2851, Little Colorado Physician (928) 524-2462, Petrified Forest Medical Center Inc. (928) 524-3913 Maestas Andrew MD, and Casanova Francisco A. photo attribution: mdng