Welcome to our page breaking down the CNA salary in Montana by city. Workers in this state need to become certified before they can become employed at medical facilities throughout the state. If you enjoy helping people and looking out for their health, you might want to think about becoming a certified nursing assistant or CNA. Under the supervision of a registered nurse, a certified nursing assistant helps take care of a patient's healthcare needs.
A CNA can find work in hospitals, clinics, nursing homes, adult day care canters, assisted living facilities and even in personal homes. A CNA has daily contact with patients and provide for their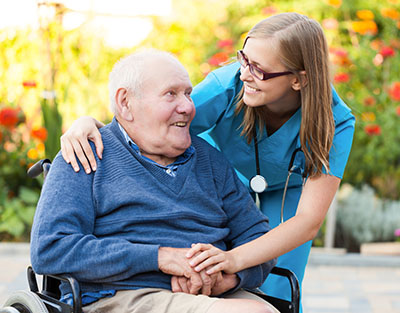 basic quality-of-life needs and are able to gather vital information about a patient's condition. Being a CNA allows you to take home a good salary and offers you the satisfaction of knowing that you are helping people in need.
In the United States, the average salary for a CNA is around $12.02 an hour or $23,726 a year. If you choose to become a CNA in Montana, you are looking at an average salary of around $12.52 per hour. This comes to around $26,157 a year.
For a better idea of your earning potential as a certified worker, check out this list of the 7 major cities in the state.
CNA salary in Montana listed by popular cities

$28,908 Billings
$18,628 Bozeman
$18,628 Butte
$26,886 Great Falls
$24,830 Helena
$28,158 Kalispell
$18,628 Missoula
To become a CNA, you need to have a high school diploma or a GED. While a degree in healthcare can help prepare you for a CNA career, it is not typically required. You will then need to take some form of post-secondary nursing instruction. Nursing assistant training programs are available from a variety of institutions; these include community colleges, online schools, and trade schools.
After you have completed your training, depending on what state you are in, you will need to fulfill certain requirements to become certified. Usually this is a simple matter of taking and then passing a specific state's CNA exam.
In Montana, workers get their credentials from the Department of Health and Human Services (DPHHS). They need to pass a state competency evaluation and have shown to successfully be able to perform all their expected duties in a training or an employment capacity.
Potential CNAs will need to complete approved CNA programs of at least 75 hours. This will include around 45-50 classroom hours and 25-30 clinical hours. Trainees will need to complete all required nurse aide skills before they can get approval to take the state competency evaluation.
If you have taken your nurse aide training out-of-state, or have already been working as a out-of-state CNA, you need to be endorsed into Montana to be part of the registry of CNAs in the state. You can be endorsed on the basis of certification in any state. You will just need to submit an application form and present a card or letter from each state you are certified in.
An out-of-state CNA can work in Montana for up to 30 days before receiving their certification, as long as the Montana employee has contacted the Certified Nursing Assistant out-of-state registry to verify their certification. Visit this page for more information about attending nursing assistant classes in Montana.